Canolfan Bedwyr's Language Technology Unit is a self-funded research unit that develops digital language resources and tools for the Welsh language, the Celtic languages, and for multilingual situations in general.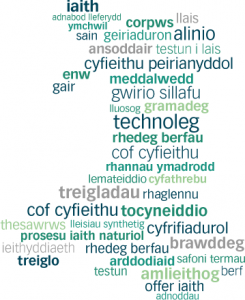 The Unit is responsible for Cysgliad, a package containing a Welsh language spellchecker, a grammar checker, and a collection of comprehensive dictionaries, and has also developed numerous other language proofing tools.
The Unit undertakes terminology standardization work, and develops electronic dictionaries for a range of subject fields on a variety of platforms, including websites and apps.
The Unit also develops speech technology for Welsh and other languages, and maintains place-name databases on the web.
In addition, the Unit develops computer-based learning aids, including language games.
The Unit has close connections with a number of academic departments within Bangor University, including Welsh, Linguistics, Modern Languages, Sociology and Healthcare Sciences. In 2016 the Unit was one of the founders of the Technology and Language Research Network  at Bangor, which brings together researchers in this field.
It also had close connections with business and industry, and undertakes Knowledge Transfer Partnerships (KTPs). It has run successful KTP projects with companies such as Testun, y Lolfa and Semantise. It's recent KTP with Cymen translation company won an A* rating for excellence, and it has also won Innovate UK funding to work with Haia at MSparc, Anglesey's Science Park.
The Language Technologies Unit count Cymdeithas Cyfieithu Cymru (the Association of Welsh Translators), the National Library of Wales and S4C amongst its partners, and has worked with What3Words and Gairglo to include Welsh in their products. It has also worked with international companies including  Microsoft and Mozilla to develop Welsh language resources. It can work with companies both large and small to research and develop Welsh language software and resources, and publishes many of its digital resources on open licences on GitHub. More information is available through the Welsh National Language Technologies Portal.